Isle Of Wight Holiday Blog
---
Decided to do a blog of our holiday....
Monday 16th June
We set off at 6am.
Drove down to Portsmouth, stopping at my aunties in High Wycombe for a coffee at about 10am.
Was a nice drive down, with only a little bit of traffic/rush hour, until we got off the ferry, where we scraped the underside of the car on the way off, which did some damage to the exhaust (sounded like a heat shield rattling)........
We arrived in the Isle of Wight at 2pm, and decided that as we couldnt get into the holiday park till 4, we would have a little mini tour around Ryde and see if we could find a garage to take a look at the car. So much fun trying to find a garage who was willing to try get the car on a ramp (as it is so low) - but we found a place with a MOT ramp that is sunken into the floor - so no probs getting on (just they were busy, told to return at 11 the on the tuesday).
We went to the holiday park, got booked in and settled in. Had the best fish and chips of our lives for tea - Fatharrys in Sandown.
Back to the holiday camp - to see the entertainment - not the best live band i have had the pleasure of, but better than nothing. Then a walk to the beach (5 mins) - so peaceful.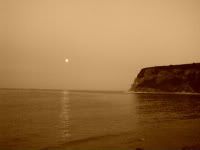 Sorry for the picture quality - only had my phone with me
Comments