My Trip to New York!
Posted 25th October 2008 at 13:29 by
Amiee
---
Well some of you know I went to new york back in September for a week!
Now I did the most stupidest thing in the world on the way home so unfortunatly I dont have many pics , only the few decent ones off my mates cam/phone that are of any use!
Basically I was worried my camera may get lost/stolen in my handluggage, so I took out the memory card and put it in my case for safe keeping..
Except somwhere between here and newyork I lost it, along with all my pics
Anyways our flight was at 7.45 in the morning, so we set off from heathrow, and arrived in New york JFK at 11.20ish in New york time! After having breakfast twice already on the plane, was ready for the day ahead I guess! Check in wasnt untill 3, but by the time we got out of the airport, and trecked over to the hotel, dropped the bags off, and headed to get coffee, it wasnt long before we could check in!
We were staying at the Mandarin Oriental, omg the hotel itself was amazing, I would of happily spent the week without going out at all! So we unpacked, refreshed, chilled out and went to check out the hotel!
I knew it had a pool somewhere, so after getting lost a few times, we found it. on the
36th floor
We the missioned it back down to the resturant, had dinner then set off for a walk to central park!
Tuesday - We set off around 10am, we set off
grabbed a taxi to somewhere, and then got out and walked around to the Lincoln Centre on the west side, and then round the block back to central park! We did a lil shopping and mooched about, grabbed coffee and just chilled for the rest of the day!
Weds - we got up nice an early, and headed over to the Empire State Building after walking down 5th Ave.. was about 3 miles walk but did us some good!
We made it upto the 86th floor, walked out onto the viewing platform, then POW!!! I fainted, petrified of heights and it was a bit too much, came round and was made to sit untill I felt a bit better! Grabbed some pics though whilst was up there!
We then went and did a bit of shopping, grabbed coffee / dinner and then headed back to 5th Ave to the Rockafella centre! Was getting dark by this time, and from the 70th Floor the views are great!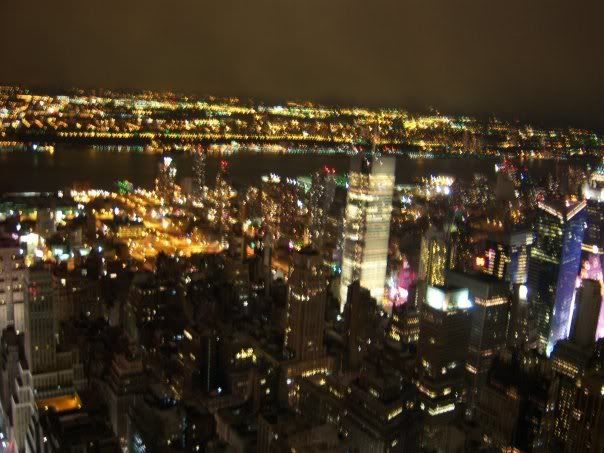 Shaking like mad + cam phone pic = crap pics!
Weds - Headed to Times Square for breakfast,jumped on a coach for the "Movie Tour of New York City". It finished around Dinner time, so we got the subway down to the ferry and went out to Liberty Island!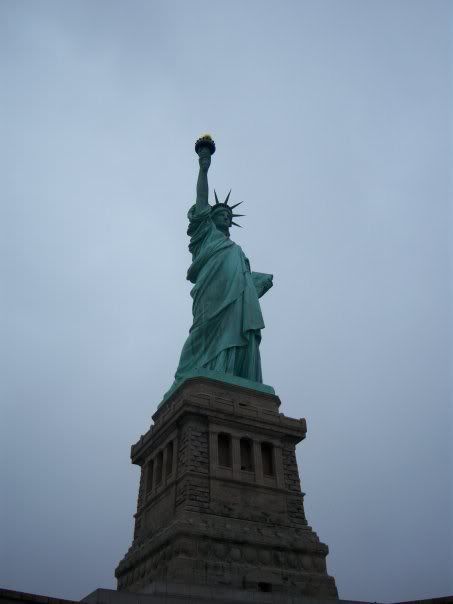 We then got the ferry back to Manhattan, then the subway, and went down to Broadway and watched some musical show
Thursday - We went swimming lol... and chilled at the hotel untill dinner, we headed out and got a open top bus trip around the city!
Visted the Museum of Modern Art (MOMA) , National Basket Ball (NBA) store and also went into the Disney store.
We also visted Ground Zero Site a very weird eary place even still, and more shopping!
Friday - We went to central park, it was deffinatly alot brighter so we walked down by the lake and spent most of the day just walking around, really could have got lost its so big, and our feet killed by the time we got back to the hotel!
Saturday - we didnt really do much during the day, went shopping, went to times square again and grabbed lunch! In the afternoon, we walked around and headed back to the hotel for dinner, went to the spa rooms and got ready to go out!
We had a helicopter flight booked as part of the holiday, so off we went! It was pretty amazing , I love helicopters and flying around at night you could see the city at is best! All lit up and out of the way of the busyness of being on the ground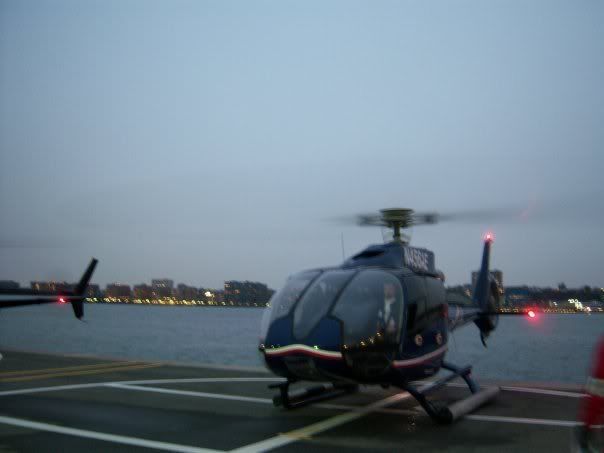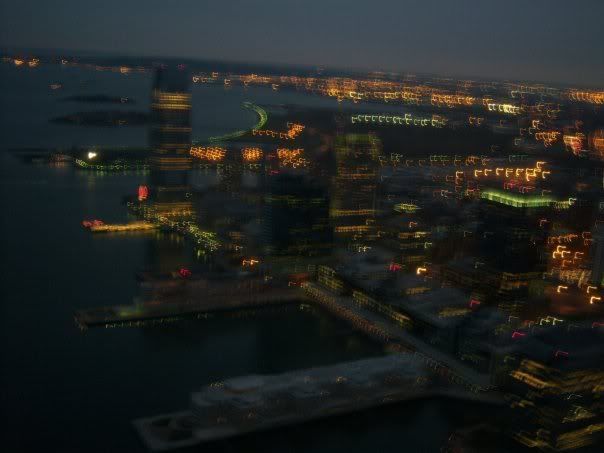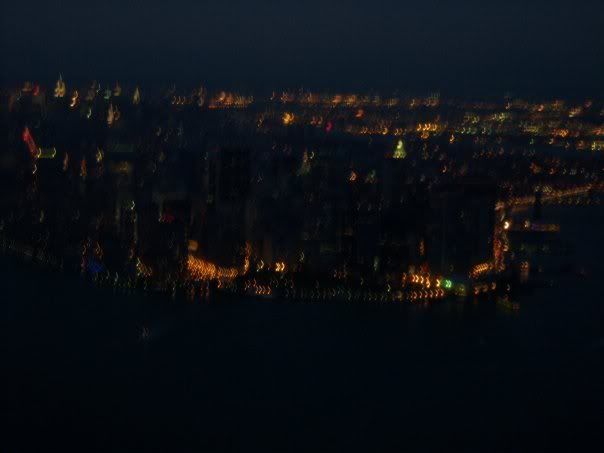 Pics are not great guys, sorry!
Sunday we had breakfast, chilled at the hotel and packed, ready to check out at 12!! We left our bags at the hotel and spent the day doing more shopping and drinking more coffee!!! I was pretty tired by the end of the week, its certainly a busy holiday and I was foooked by time we collected the bags and got the taxi back to the airport!
Arrived back at Heathrow Monday mid morning, and finally got home about 3pm in our time!
Few more random pics!!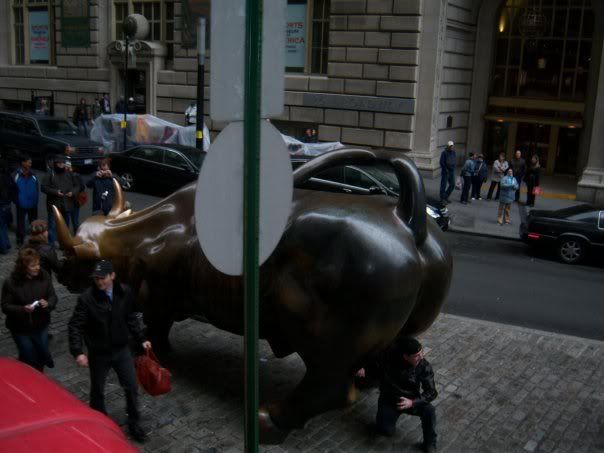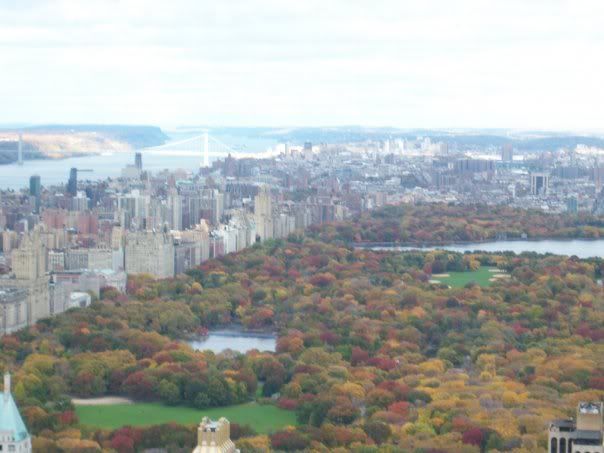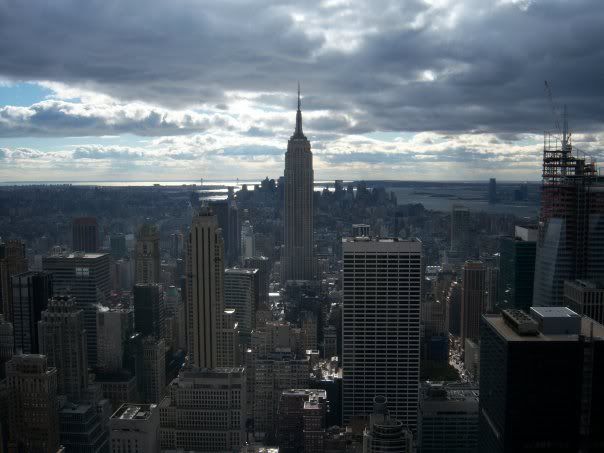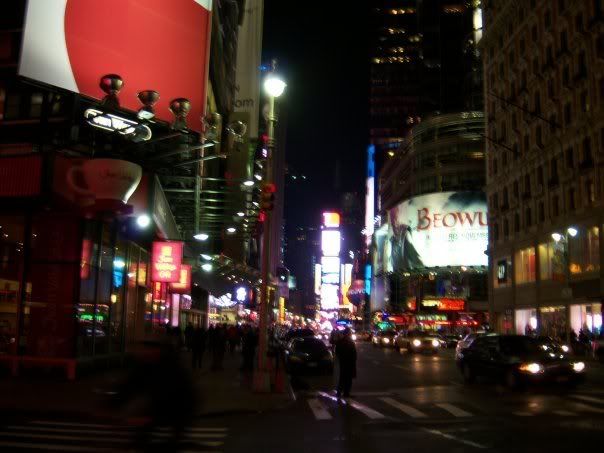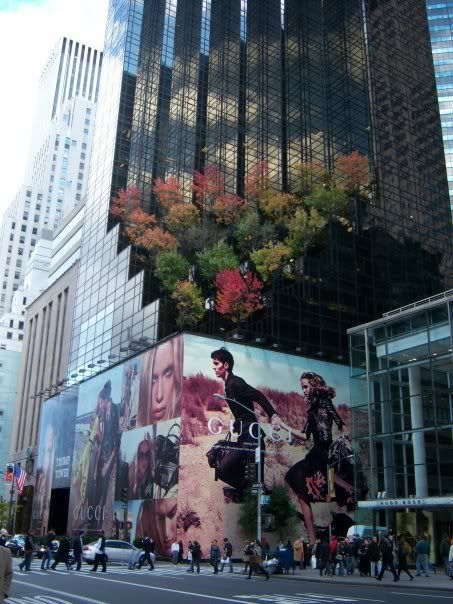 Thats all for now
Amiee
Comments