Right, I've been back from TRAX a few hours now and had a good think and ponder over all the awesomeness I saw.
I've decided that I've seen far too many track car builds on here that never come to fruition. The main reason behind this, from what I've seen, is people get bogged down with building a top spec car. I think this is great and I'm in NO WAY trying to take from anyone that wants to do this as it's your personal decision BUT, that fact that many never see the track or never get completed cannot be ignored.
To this end, i've decided I want to see if rather than spending three times as much on just an engine, I can buy, build AND get on track in an okay spec car for the measly sum of ONE THOUSAND POUNDS!
The target budget has only really been set by Rorz_VTS as he has built a lovely looking daily for the same budget. After having a chat with him about his build and some of the interest it has received, I thought it MAY be possible to get a car up to a decent track spec for similar money.
First off. I do have a VTR at the moment but as the shell is in need of some tlc, I may not use this for this project. I may, however, use some of the mods I've fitted to it to save time BUT I will add the prices I paid for the parts to the total.
Ideally, The car will be a VTS with all the most important bits sorted first, then some lightening and maybe some added safety in the form of buckets and a cage.
I'll start looking into what spec I can get for the money while you lot throw some abuse or hopefully some good ideas my way.
Fingers crossed, I also want this project to be completed by December 4th. this gives me exactly 3 months
So, let rip people... ideas for spec, please
Well,

That was the original plan and I completed it quite well I think. The car had gone past its original design spec now and the following is the current spec of the car to wet your appetites and get you to read on.

Alanapone's Track Car Spec:

Engine:
VTS engine,
Catcam 708 camshafts
BMC enclosed induction kit,
Saxsport manifold back system
Raceland 4-2-1 manifold - Heat wrapped,
Braided Fuel Lines with dry break fuel sample point,
3.5bar FPR.

Chassis:
Powerflex ARB bushes,
Powerflex Lower engine mount,
Powerflex Front wishbone bushes,
Vibratechnics Rear wishbone mounts,
Powerflex rear beam bushes,
Rally Designs Coilover conversion,
200lb Springs
Bilstein Grp. N front dampers,
Bilstein B8 rear dampers,
I.M. Axles Oilite rear beam,
OMP 10 point roll cage,
Stitch welded engine bay,
Welded strut top plates,
266mm Brake conversion,
Mintex M1144 front pads,
Internal brake lines and Bias valve,
Slimline, lightweight battery,
OMP upper and lower strut braces,

Interior:
Fully stripped,
Cobra Imola 2 seat,
330mm Suede OMP steering wheel,
Quick Detach steering wheel boss,
106 Flocked door bins,
Carbon door cards,
106 Door levers,
106 Flocked lever surrounds,
Porsche door pulls,
106 lightened and trimmed dash,

Exterior:
Removable front bumper,
Morrette headlight conversion and grille,
106 Carbon covered wing mirrors,
14" wheels with Yokohama A048 tyres,
25mm Custom spacers to suit above,
15" Team Dynamics 1.2's with Michelin and Barum tyres,
25mm spacers to suit above.
Before: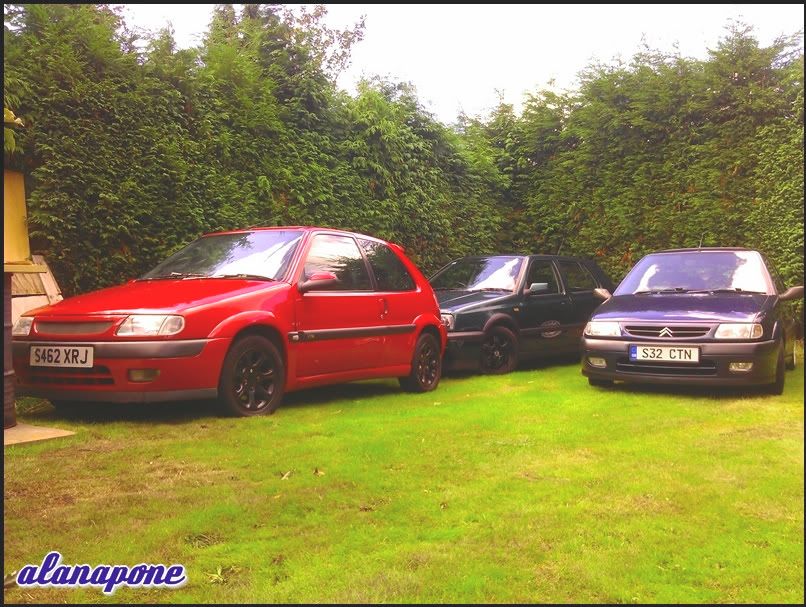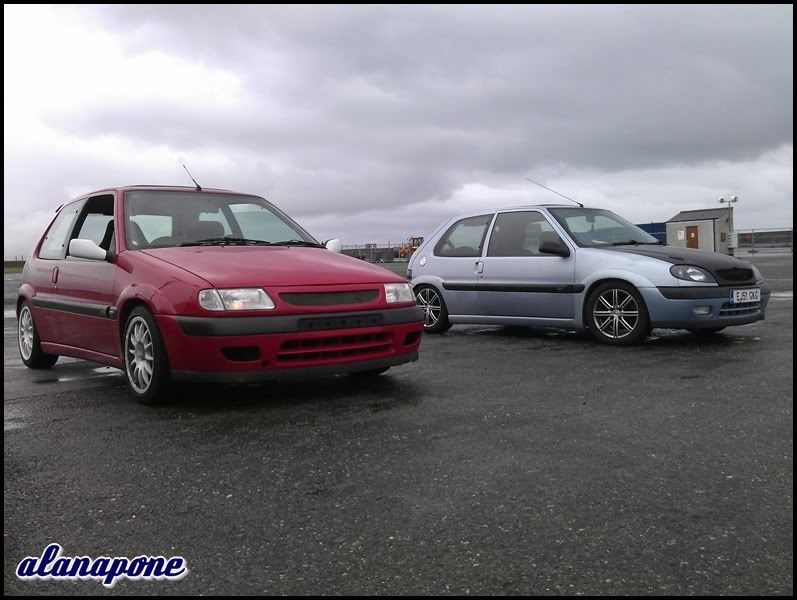 CURRENT: